First of all, a quick reminder that today is the LAST DAY TO VOTE for your favorite in the Sew-Vivor Finale! I'm facing off against two other talented designers, and could really use your help. The polls close at midnight eastern time TONIGHT, which is 9 p.m. for us folks on the West Coast. Please take a moment to click on the photo below and VOTE FOR ME. I'm contestant #3 with the Quilted Surf Style. I'm sure you'll recognize Hudson and this outfit.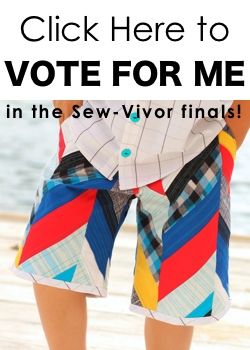 Since it's Friday I also wanted to have some fun and share the bloopers from our shoot last weekend. My boy is so wonderful for being my model, and he was proud, but MAN ALIVE he can be difficult to capture!
You know how young boys are. This particular day he was cold, he was bored, he was making weird faces, he was scowling, he was jumping. The reason we were able to get any good pictures is because 1) my brother is a fantastic photographer, and 2) I've learned a lot over the past year about how to make my kids comfortable during a photo shoot.
I thought it might be fun to share some of these tips with you. We all love our kids, and we know they are lovely. But it can be hard to capture our children in photographs that show that loveliness. Any time I take pictures for this blog, my goal is to show more than the outfit. I want to show my children as they really are: all the joy of living, the spark of spirit, the hope of childhood. I want them to look like they are loved and love others.
This isn't easy to do, and I'm still learning. Each child is different around the camera. You guys already know how Abby is. She comes alive when the camera is out! She's "on point" as my brother would say, for almost every photo. This girl LOVES to pose. Hudson is different, however. He starts to shut down as soon as he sees the lens. It's my job to ease him out of his shell and let him be himself so that the camera can capture what I see on a daily basis.
I firmly believe that even the most well-sewn outfit won't look as good on an unhappy model. Outfits that shine are worn by children that shine. 
Photography is a new art to me. I'm still learning oh-so-much and I don't want you to think I'm an expert on this stuff! These are suggestions resulting from what I have learned photographing my own children. They may not work on your kids…but then again, they might!
Left: How my boy wants to pose for pictures. Right: How I want him to pose for pictures.
I wrote this whole post and then realized it was too much information, so I'm splitting it into three parts and calling it a mini-series. That makes it sound official, right? So today we will cover Part One: Capture Them Comfortable.


TIPS FOR GETTING NATURALLY BEAUTIFUL PICTURES OF YOUR CHILDREN: Part I
Your kids are most comfortable in their natural environment. It's ideal to shoot them doing something they love, in clothes they are comfortable wearing. When that's not possible during a staged shoot or when wearing something new-to-them, do the following to help your children feel at ease:
Be relaxed and comfortable! Kids can sense stress like sharks smell blood.
Don't put too much pressure on your kids to make the shoot "perfect." Have fun!
Bring along props or toys they are familiar with (a favorite hat, stuffed animal, lego, etc.).
Have other loved ones around to bring out the best in your child and make him laugh.
Honestly, this is hardest for me when I place a lot of importance on the pictures I want to get (like our photo shoot for the Sew-Vivor finale). I start getting all sweaty and agitated, and my kids can tell! Sometimes I have to remind myself that putting pressure on them won't help. When I remember to enjoy it as an experience with my kids, one that we can remember forever, things go much better.
It's my job to let them shine and then capture that light. When I think of it that way, it's a lot more fun!
Now take a moment to look through some more bloopers from our photo shoot! Look for the moments when I tried to make my son do something unnatural. You can usually tell from the look on his face! 
"It's bugging me like this!"
Of course, we also got a lot of usual kid-bloopers, like these collapsing and jumping shots. They aren't exactly fashion photography but they do capture my son as he really is! Love him!
"Whoa, look at my shorts!"
"Mom said stand still. I'm a frozen robot!"
"Look at my shadow!"
This one is my personal favorite:
Now go and take some fantastically beautiful pictures of your kids! I'll be back next week with more of the good stuff. If you'd like to keep up with these posts, consider following by RSS, email, or GFC, all on the right sidebar. Or you can follow via
Facebook
or Instagram (@cailamade).
My schedule for next week is:
Monday, April 22: Part II: Capture Them Happy
Tuesday, April 23: Part III: Capture Them in Natural Movement
Wednesday, April 2: A tutorial for the herringbone shorts, and…The Sew-Vivor RESULTS!
Speaking of, head on over there now to
VOTE FOR ME
if you haven't already! Thanks so much for your support during this competition, friends! You have truly inspired me. I love you all! 
If you'd like to read more of what I'm learning as I photograph my family read this post on
Finding Familyness
.
Sometimes I like to stage shoots, like this one for my boy's
Linus Shirt
. 
*All the pictures in this post were taken by my brother, Kyle Cowgill, the talent behind this hilarious channel.